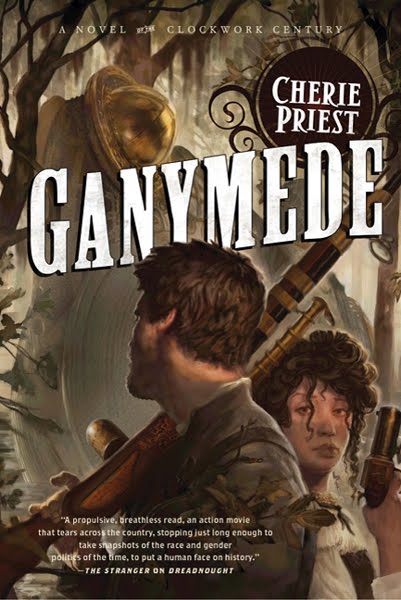 Cherie Priest
Tor Books

The air pirate Andan Cly is going straight. Well, straighter. Although he's happy to run alcohol guns wherever the money's good, he doesn't think the world needs more sap, or its increasingly ugly side-effects. But becoming legit is easier said than done, and Cly's first legal gig—a supply run for the Seattle Underground—will be paid for by sap money.
New Orleans is not Cly's first pick for a shopping run. He loved the Big Easy once, back when he also loved a beautiful mixed-race prostitute named Josephine Early—but that was a decade ago, and he hasn't looked back since. Jo's still thinking about him, though, or so he learns when he gets a telegram about a peculiar piloting job. It's a chance to complete two lucrative jobs at once, one he can't refuse. He sends his old paramour a note and heads for New Orleans, with no idea of what he's in for—or what she wants him to fly.
But he won't be flying. Not exactly. Hidden at the bottom of Lake Pontchartrain lurks an astonishing war machine, an immense submersible called the Ganymede. This prototype could end the war, if only anyone had the faintest idea of how to operate it…. If only they could sneak it past the Southern forces at the mouth of the Mississippi River… If only it hadn't killed most of the men who'd ever set foot inside it.
But it's those "if onlys" that will decide whether Cly and his crew will end up in the history books, or at the bottom of the ocean.
This is the third of Priest's Clockwork Century books and it's another corker.
I've enjoyed all these books so far (especially the second) and I love that they truly feel like events unfolding rather than some sort of contrived arc of a trilogy.It's also beautifully human. You almost know these characters. They use believable logic to justify their behaviour and they react in understandable ways, albeit very noble ones.
The story this time out concerns a newly invented submarine that the (black) insurgents in New Orleans are trying to hide from and slip past the occupying forces of the Confederacy and the Republic of Texas. Airship pirate Andan Cly is asked by his ex to come to New Orleans to pilot the sub. Along the way he is caught up in an Texan attack on the insurgent base, participates in the fight to recapture it and meets his first transvestite prostitute.
Truthfully it wasn't as satisfyingly wonderful as the second book, Dreadnought, but as that was one of the best things I read all last year that's probably not surprising. This one is still a fabulous read filled with pin sharp dialogue and great characters.
All these books (and the assorted shorts) feel like snapshots of a series of interconnected lives. It's getting to be increasingly interesting how these lives are intertwining whilst behind everything the menace of the zombies is growing slowly.
As ever I almost cannot wait for the next volume.